The foundation of the COMI Secular institute is closely tied to three essential and concomitant elements:
The person of Gaetano Liuzzo, from the Missionary Oblates of Mary Immaculate (OMI) and his "idea" to give to young women who worked with the Oblates the possibility to live in fullness the same spirituality and to share their charisma as lay;
A circular letter of Father. Leo Deschâtelets, the Superior General of the OMI, (n°182 – 25- 1 -1948);
The presence of some young women already engaged with the Missionary Association AMMI, and their precise demand: "We want to be as the Oblates".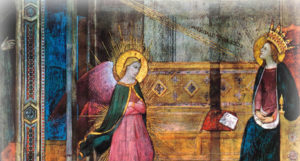 On August 22, 1951, in the Basilica of the Annunciation in Florence, eighteen young women, enthusiastic members of the Missionary Association of Mary Immaculate, consecrated themselves to Mary: the first "Oblate Sisters." Later on, they took vows and their name changed as well until the current name: Oblate Missionary Cooperators of the Immaculate (COMI).
On July 27, 1963, came the decree of erection to Pious Union, with the approval of the Statute.
On February 11, 1987, the Diocese of Rome approved the Constitutions and erected the COMI as a Secular Institute with missionary goal.
On November 21, 2001, Feast of the Presentation of Mary, the Secular Institute Oblate Missionary Cooperators of the Immaculate (COMI) obtained the Decree of the Pontifical Approbation.
With this act, the C.O.M.I Constitutions become patrimony of the Church and the Holy Father, who approved them, became its guarantor.
The initial clarity of foundation, confirmed by life, gives to the Institute a precise "face", characterized by two elements:
The closest link with the missionary charism of S. Eugenio de Mazenod, of whom  Fr. Liuzzo was the "channel", and with the Oblates of Mary Immaculate: The Church recognizes the COMI as "flourished from the charism of the OMI Congregation";
The secular character: Living a full consecration to God, while remaining in the world.